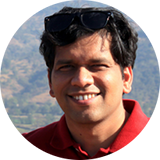 Hi, I am Rishikesh Parkhe, a Software Architect, Engineer, Game Developer, Artist, Designer and Implementer. I currently develop software for an Engineering firm. This blog and its contents are based on my opinions alone, and are subject to change through time. This blog is about design, technology, code, engineering, making things, photography and art.
I am also the author of softwarenature.com which is my experiment for a technical blog, hopefully you will find something interesting.
BIO
Bachelor's Degree in Computer Engineering
Over 15 years of professional software development experience
Focused towards delivering solutions by doing effective communication and clean-efficient system design
Expertise in C#, C++, working knowledge of Ruby, Java, Python, Javascript and worked on different development platforms like Visual Studio, Eclipse, CMake
Good understanding of DSLs (Domain Specific Languages) and tools to meet the development requirements
Follows pragmatic approach towards software development, using efficient requirement capture, Behaviour Driven Development and evolving System Design.
Familiar with web development using ASP. NET framework
Good understanding of Math and Geometry required for CAD, Game Development, proficient in NURBS concepts required for CAGD
Good understanding and work experience of developing various Collision Detection mechanisms
Contact
Email: rishiparkhe at outlook com
CV
For a detailed CV please email me at the above address.